Tenemos que hablar, Rita
May 4 @ 6:00 pm

-

7:30 pm

EDT
La artista dominicana contará en esta charla cómo ha logrado romper esquemas en la música merengue y la literatura.
Música, escritora y visionaria, la dominicana Rita Indiana es una de las voces más interesantes de América Latina. Ha producido tres discos de merengue experimental —medio techno, medio metal— y cinco novelas que retratan el absurdo caribeño con un humor y una imaginación inigualables.
Esta conversación de 90 minutos moderada por Daniel Alarcón, presentador y productor ejecutivo de Radio Ambulante, no será una conferencia común y corriente. Como participante, estarás en la misma llamada de Zoom con Rita y podrás hacerle tus preguntas. Al igual que los otros invitados especiales del festival, ella ha donado su tiempo al Radio Ambulante Fest. Queremos que aproveches cada minuto de la conversación.
Al comprar la entrada para este evento apoyas a Radio Ambulante y a El hilo, y nos ayudas a asegurar nuestra sostenibilidad e independencia.
¡Gracias por participar!
Evento en español con traducción simultánea al inglés.
Compra tu entrada por 20 dólares estadounidenses.
* * *
About this event
The Dominican artist Rita Indiana tells in this conversation with Radio Ambulante's host and executive producer, Daniel Alarcón, how she has managed to break the mold, both in music with her hybrid merengue, mixing techno and metal, and in writing with her Caribbean science fiction.
Thank you for supporting us! Your contribution makes our journalism possible.
Event in Spanish with simultaneous translation into English.
Get your ticket for US $20.
* * *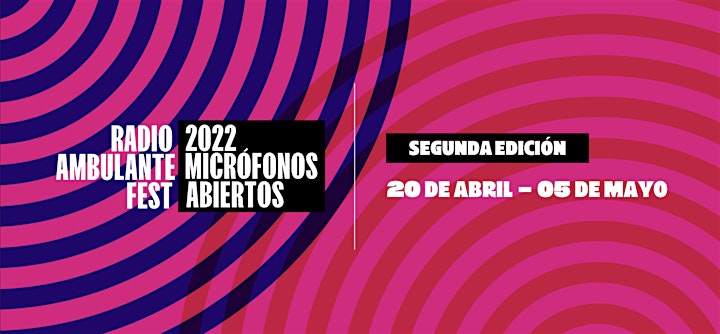 Este festival de Radio Ambulante y El hilo es una celebración de la creatividad y el periodismo en audio con algunas de las mentes más brillantes de nuestro continente. Tendrá lugar entre el 20 de abril y el 5 de mayo de 2022, y forma parte de nuestros esfuerzos de recolección de fondos.
Para ver toda la información sobre el festival, visita radioambulantefest.org.
This festival organized by Radio Ambulante and El hilo is a celebration of creativity and audio journalism with some of the brightest minds on our continent. It will take place from April 20 to May 5, 2022 and is part of our fundraising efforts.
For more information about the festival, please visit radioambulantefest.org.