Wild World Texas: A Natural Wine & Farmhouse Beer Festival
May 14 @ 1:00 pm

-

May 15 @ 6:30 pm

CDT
Taste hundreds of natural wines, wild ales & more at the stunning Jester King Farm with food offerings by star chef Iñaki Aizpitarte.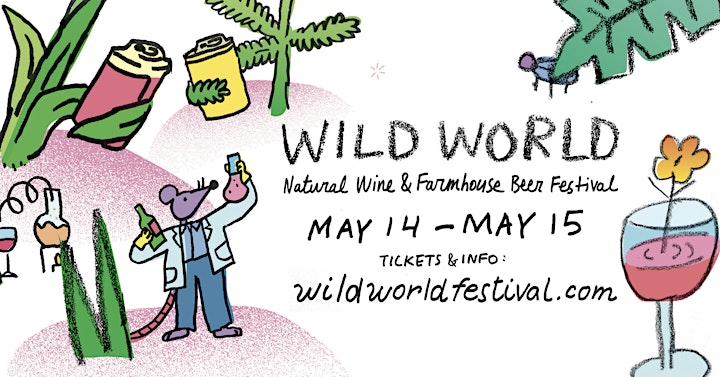 TWO-DAY EVENT:
Saturday 1pm to 6:30pm
Sunday 12pm to 6:30pm
Experience an unlimited salon-style tasting of over 200 natural wines, farmhouse beers, & foods fermented with wild yeast and bacteria. Learn from panel and classroom-style discussions in which producers, importers, writers, and retailers share knowledge within and across categories toward a greater understanding of an ever more delightfully-complex continuum of fermentory enjoyment.
OUR GROWING LIST OF PRODUCERS INCLUDES: Chef Iñaki Aizpitarte, Le Chateaubriand and Le Dauphin, Paris, FR Eric Texier, Rhone, FR / Hank Beckmeyer, La Clarine Farm, Sierra Foothills, CA / Chris Brockway, Broc Cellars, Berkeley, CA / Patrick Alfred & Dean Babiar, Cantina Cantina, Long Island, NY / Chris Denesha, plēb urban winery, Cedar Grove, NC / Leif Sundström, Sundström Cider, Hudson Valley, NY / Jason Charles, Vinca Minor, Berkeley, CA / Lyndon Smith, Botanist and Barrel, Central, NC / Pat Ware, Arizona Wilderness Brewing Co., Gilbert, AZ / Charlie Gilmore, Cormorant Cellars, Sonoma and Monterey Counties, CA / Gina Schober, Sans Wine Co., Napa Valley, CA / Justin Knoll & Aiyana Knauer, Grimm Artisanal Ales, Brooklyn, NY / William Allen, Two Shepherds, Sonoma, CA / Raphael Lyon, Enlightenment Wines Meadery, Hudson Valley & Brooklyn, NY / Alexander Pomerantz, Subject to Change Wine Co., North Coast CA / Ross McLauchlan, The Austin Winery, Austin, TX / Nate Winters, Troon Vineyard, Applegate Valley, OR / Bardos Cider, Sonoma and Napa, CA / Joseph Ryan, Edaphos Wines, Sonoma Coast and Medocino County, CA / Maureen Eden & Audie Smith, Swick Wines, Willamette Valley, OR / Michael Roth, Lo-Fi Wines, Santa Barbara County, CA / Jasper Smith, Son of Man Cider, Columbia River Gorge, OR / Hiyu Wine Farm, Hood River, OR / Preston Madson, Happy Llama, Los Angeles, CA / Mara Ambrose, Carboniste, Napa, CA / Erin Rasmussen, American Wine Project, Mineral Point, WI / Dan Rinke, Art + Science Cider, Yamhill County, OR / Jester King Brewery, Hill Country, TX / Ricky Taylor, Alta Marfa, TX & NM / Jen Currier, Wicked Weed Brewing, Western NC / James Jelks, Florez Wines, Central Coast, CA / Avram Deixler, Absentee Winery, Point Reyes, CA / Jude Zasadzky, Wavy Wines, Sonoma, CA / Ian Atkins, Summer Revival Wine Co., Hill Country, TX / Brett Pallesen, De Levende, Richmond, CA / Shaunt Oungoulian, Les Lunes, Populis & Licorne Méchante, CA / James Brown, Barton Springs Mill, Dripping Springs, TX / Noelle Vandendriessche, Etteilla Wines, Sonoma, CA / Ryan Roark & Emily Myers, Roark Wine Co., Santa Barbara County, CA / Salt & Time, Austin, TX / Jay Anderson, Pét Project, Walla Walla, WA / Brent Mayeaux, Stagiaire Wine, San Francisco, CA / Dillon Buckley, Hermann J. Wiemer Vineyard, Finger Lakes, NY / Rob Durham, Durham Cider + Wine Co., Central Coast, CA / Michael Roth & Sean Hogan, Coquelicot Estate Vyd & Rose & Son, Santa Barbara County, CA / Ryan Stirm, Stirm Wine Co., Central Coast, CA / Gelert Hart, Ambyth Estate, Paso Robles, CA / François de Monval, Les Equilibristes, FR / Danielle Shehab, Forelorn Hope Wines, Sierra Foothills, CA / Brianne Day, Day Wines, Oregon / Joey Fox, Old Westminster Winery, Westminster, MD / Austin Myrhan, Wild Mind Ales, Minneapolis, MN / Chad Westbrook Hinds, Iruai Wines, Siskiyou County, CA / Roughhouse Brewing, Hill Country, TX / Kyle Lattimer, Chateau Deluxe, Cascade Locks, OR / Regan Meador, Southold Farm and Cellar, Hill Country, TX / Christian Soto, Soto Vino, Austin, TX / Tony Offill, William Chris Vineyards, Hill Country & High Plains, TX, and more.
Additional producers will be added weekly, and due to ongoing travel challenges, lineup may change without notice. Check our website & Instagram for latest developments.
Discussion Panel topics and participants will be announced May 1 .
Ticket price includes entrance to both the tasting floor and panel discussions. We will cap attendance for each panel discussion at 30-50 guests, fc/fs.
Food concessions, coffee, merchandise, shuttle rides between Austin and Jester King, and reserved parking are additional.
Shuttle service will pickup and drop off at Lolo (1504 East 6th Street). Please note: there is NO PARKING at Lolo. Plan to continue the fun at Lolo for WW sponsored events each night.
We are dedicated to creating a safe and harmonious gathering in all ways. We ask that you respect the bodies and minds of all those gathering at Wild World, keep your consumption in check, and follow any covid-related guidelines we set in tune with Jester King's normal policies. (As of now we will not require proof of vaccination.) This event is entirely outdoors and open air.
Instagram: @wildworldfestivals
YOU MUST BE 21 OR OVER TO ATTEND.
Festival to take place rain or shine! We are outdoors but roofed & tented.